Journey to
Mass Effect Andromeda Roleplay
the Stars
Hostile Jungle (Mission #17)
, Tag: Sara Ryder/Orc Orc
LEVEL:
5
CREDITS:
615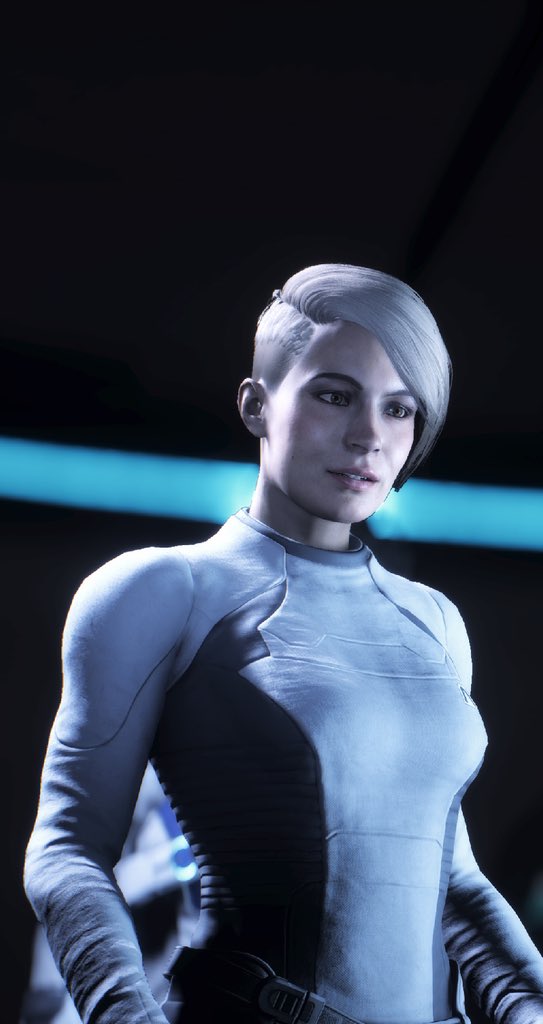 Species:
Human
Age:27
Occupation:Tempest Second in Command
Profile:Adept
Relationship:Taken by Peebee
Posts:97
Played by:Park
The ramp to the Tempest lowered, a slight thump and rumble as it hit dirt. Cora waited for Sara to descend, then followed a few steps behind. It was important to maintain a hierarchy. As Sara was commanding officer and human pathfinder, rules would dictate she be the one to take the lead, whether it be a party of two like them or a party of four. The pathfinder probably found such a thing unnecessary, but it was so ingrained into the blonde that she couldn't help it if she tried. Command structure was integral to a soldier's life as it was to a commando's. There was order to everything, why disrupt it by stepping out of bounds?
They were there to help find missing angaran researchers, but that was the extent of the message sent to the Tempest. Other than that, it was up to them to fill in the blanks after meeting with their associates further on ahead at the outpost. Cora's omni-tool hummed to life on her arm as she walked along with Sara, it scanning nearby flora. Havarl was very exotic, a planet-wide jungle that was a bit too pretty to look at. Anything exotic had the tendency to be just as deadly in her experience. The search wouldn't be easy, even if they were given a general direction after the outpost. Havarl would be working against them every step of the way.
"ETA to outpost is five minutes, Pathfinder,"
Cora told her as it appeared on her visor.
"At least we can sightsee until then."
And pray not to get bitten by anything.
Tag:
Sara Ryder
LEVEL:
5
CREDITS:
255
Species:
Human
Age:22
Occupation:Human Pathfinder
Profile:Explorer
Relationship:Available
Posts:52
Played by:Orchid

Havarl was beautiful; it took the Pathfinder's breath away the moment her eyes laid upon the world. She wanted nothing more than to look up at the sky and the strange being flying, look at the stars. She loved the stars. However Sara was not here to stare at the sky or watch the wildlife. Researchers were missing and she needed to help them. Cora and herself would handle this alone though she probably should have brought Jaal with her but oh well, too late for that now, wasn't it?

They were approaching the research outpost center where they'd meet a few Angara who were in need of assistance. Everybody needed assistance in some way and Sara liked to help. Well, sometimes either way she did. This was one of those times she wanted to help. The Angara were potential allies. God, her father would love this place, these people…

She cleared her throat just a bit when Cora mentioned their destination was only a few minutes away. "Thanks Cora," She said with a single nod. "It's so beautiful here…" The woman breathed out with a smile. "Think our Golden World once looked like this?" She wanted to touch the plants, feel leaves and colorful flowers but Sara knew better.

LEVEL:
5
CREDITS:
615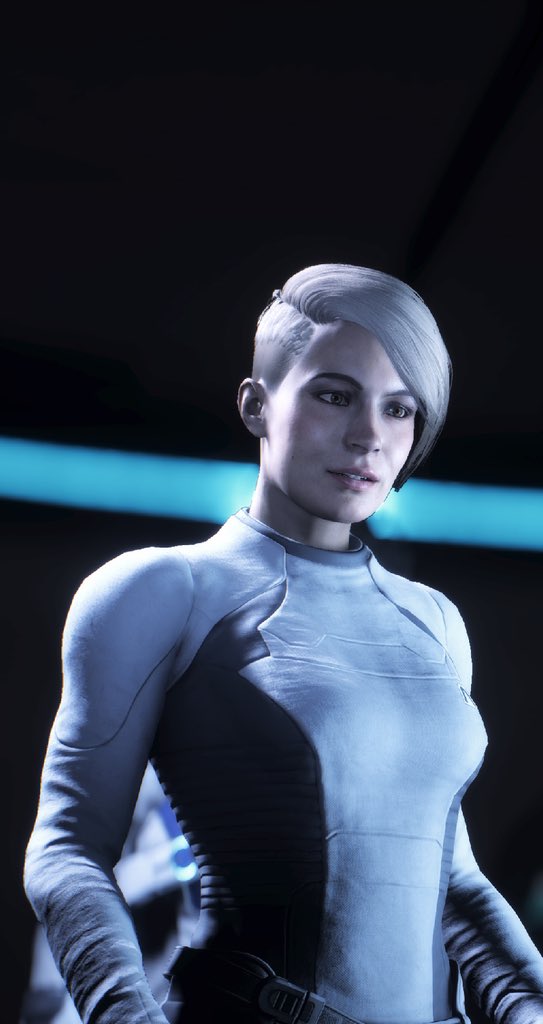 Species:
Human
Age:27
Occupation:Tempest Second in Command
Profile:Adept
Relationship:Taken by Peebee
Posts:97
Played by:Park
The pathfinder had posed a good question. Had habitat 7 initially looked something akin to Havarl? There was no way to know for certain apart from the data they'd gathered in the Milky Way. That data had also been far off the mark from what they actually encountered. Six hundred years was a huge span of time for something to go wrong and unfortunately for humanity, by the time they got to Andromeda, their new home was a dud. Time was ever in motion, even in cryosleep. It was a hard fact to come to terms with, but what more could they do than strive to make a home from what they had?
"Hard telling,"
she replied.
"In the reports it spoke of flora in the cave networks, though it was nowhere near the amount our data suggested. It was a barren rock with a storm problem, scourge related or otherwise. I'd like to think it used to be rich with life, similar to what we were expecting, but either way we're six hundred years too late."
It was sad, really. Pack your bags to explore the next galaxy over on a one way trip and you get hit with a dozen or so complications and nothing to fix it but the head on your shoulders and what you have on hand. The scourge was a nasty surprise too and destroyed whatever it came into contact with. The Hyperion was lucky it had only grazed it. Havarl was so far scourge free, but who knew for how long.
Cora then suddenly stopped, hearing multiple voices gathering behind the bushes to their right. There was an aggression to their tone, almost tribal. Her eyes widened.
"ROEKAAR!"
she yelled, whipping the avenger from her back and watching from the crosshairs as they flooded from the bushes.
Then she squeezed the trigger.
Tag:
Sara Ryder
LEVEL:
5
CREDITS:
255
Species:
Human
Age:22
Occupation:Human Pathfinder
Profile:Explorer
Relationship:Available
Posts:52
Played by:Orchid

They had a simple task, all things considered. Yet she wondered how much longer it'd remain this simple! Havarl was beautiful, mesmerizingly beautiful… Wasn't this planet dedicated to the turians and quarians? She could imagine thousands of them living in peace on this planet. It brought both solace and pain. Just another planet that they could no longer touch and colonize. Sara did respect the angara, she would not step on their toes and push for colonizing their homeworld! It didn't mean she couldn't still be a bit upset over losing a planet they'd promised themselves six hundred years ago.

Scientists were trapped, and someone needed to rescue them. Who better than Sara Ryder and Cora Harper, right? She daydreamed a bit as they strolled through the planet in question. That didn't mean she wasn't paying attention or anything, Sara simply was enjoying what she could see. Both women stopped at the same time as voices reached them. However, Sara had been prepared to continue walking and letting the voices drift away.

Cora, apparently, let out a scream of a warning before taking cover. Roekaar? Well, shit. Sara immediately dived for cover as the bushes became a stomping ground for the Havarl natives. She pulled out her pistol and peaked over the rock she'd shielded herself behind. It would be her second-in-command who took the first shot at the aggressors.

"Why can't they just stop shooting and understand we are helping?!" She growled to herself as she aligned the barrel of her pistol with an angaran female, pulling the trigger the second the shot was lined up. Sara's body radiated in the burnt orange color of her biotics as she tossed one angara into another.

LEVEL:
5
CREDITS:
615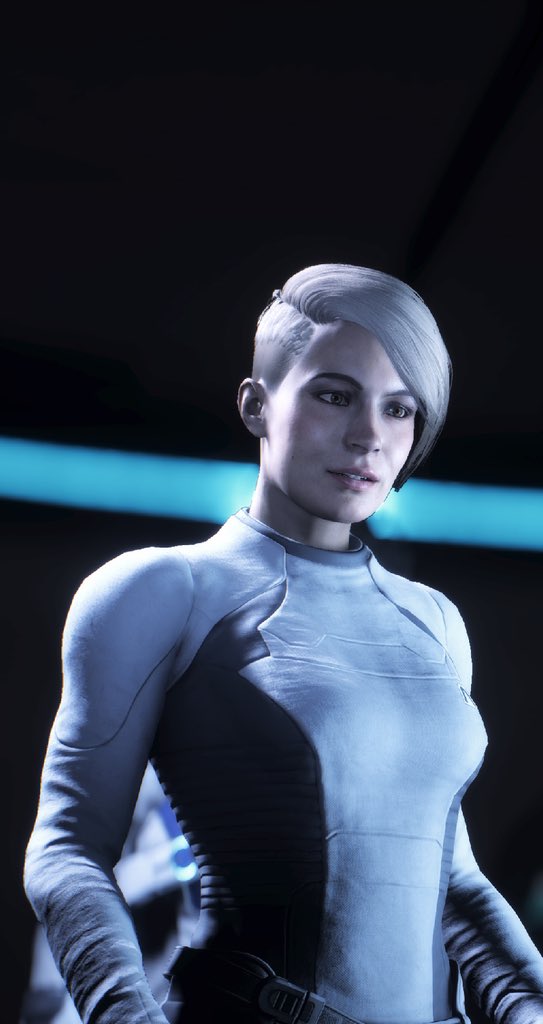 Species:
Human
Age:27
Occupation:Tempest Second in Command
Profile:Adept
Relationship:Taken by Peebee
Posts:97
Played by:Park
"I don't think they care one way or the other!"
Cora shouted back to Sara, taking refuge behind a tree after taking down a few of the Roekaar. They weren't like Jaal as they had long since forgone civility. Attempted negotiations would be crushed under the weight of impossibility. The only language they understood was territory and they were encroaching on theirs. But that didn't add up. From the debrief Jaal had given before they touched down, the territory in question should've been miles ahead of them, unless....unless they were trying to expand.
The blonde huddled a bit more into the tree, bark splintering from the impact of their attacks. Finding the researcher was already a mission of its own, but now they had ambitious Roekaar to worry about. It would be uphill from there, fire and fury raining from the sky. Blood needn't mark the grass, but it was the one color they were set on painting the environment with. As both a commando and soldier of the Initiative, it was her duty to make sure the canvas of Havarl would be of their own design.
And so once she downed a couple more Roekaar with her avenger, her right arm shot to the side,
BACKLASH
humming to life from her elbow to her wrist, forming a complete circle. She gritted her teeth as the vibrations from the gunfire shook through her limb. The ability wasn't meant to be used one handed. Maybe if both hands were close together, then it could work, but at this angle and distance, she could easily break her arm.
Thankfully the rebounded shots took out the Roekaar that went for the bait, but there was still a handful left where Sara was.
"All yours, Pathfinder!"
she called over to her, the blonde grasping her sore shoulder.
"I've cleared my side!"
Tag:
Sara Ryder
LEVEL:
5
CREDITS:
255
Species:
Human
Age:22
Occupation:Human Pathfinder
Profile:Explorer
Relationship:Available
Posts:52
Played by:Orchid

Why? She wondered as a bullet pierced through the skull of an enemy, her bullet. It seemed so harsh and unnecessary! Yes, this was their planet, but she wanted to help them. Jaal warned them of this. That didn't make any of this easier. She wanted to help, to make peace and defeat the kett. Not… this! This was cruel. Her father wouldn't have allowed this to happen! Alec Ryder would have found a way to befriend the Roekaar and done this leagues better than her.

She swallowed hard, tears welling up in her bright eyes. Dad could be so much better. She thought as she yet again took down another Roekaar, her bullet aimed for where Jaal insisted their heart was. The woman fell down, the hole in her body leaking out the strange colored blood as she struggled for life. Cora's biotics kicked in and Sara caught a bit of the biotic scene beside her. Well, damn girl! The dark thoughts were disbanded at the scene of Cora versus Roekaar.

"Got it," Sara responded in a clear and strong voice, attempting to mask the tears that were still in her eyes. "Take cover." Cora did her job. Now it was her turn! She rolled her neck which made a series of cracking noises. She placed her pistol back onto her hip and prepared herself for what was next. Burnt orange biotics hummed around her body then projected her forward, a trail of her biotics momentarily lingering in the air.

By far, the Pathfinder preferred hand-to-hand combat. She was incredibly small in stature but she was fast, agile, and tended to hit her opponent as if she were wielding bricks instead of fists. The Roekaar got a taste of that first hand. She blocked one punch, delivering one of her own in return. Bullets were sent her way but instead of burying into a human, they were only buried into fellow angara. She managed to dodge or use Roekaar as shields.

One Roekaar remained and Sara used her biotics to drag him to her. He remained in the air, flailing about and screaming. She placed a single bullet into his forehead and released her grasp on him. His body hit the ground of Havarl with a thud.

"Should have brought Jaal!" She called out to Cora as she meandered back over to her second in command.

1 User(s) are reading this topic (1 Guests and 0 Anonymous Users)
0 Members: