Journey to
Mass Effect Andromeda Roleplay
the Stars
Scorching Ammo Loss (Totally Twisted)
, Tag: Mo/Liam
LEVEL:
5
CREDITS:
615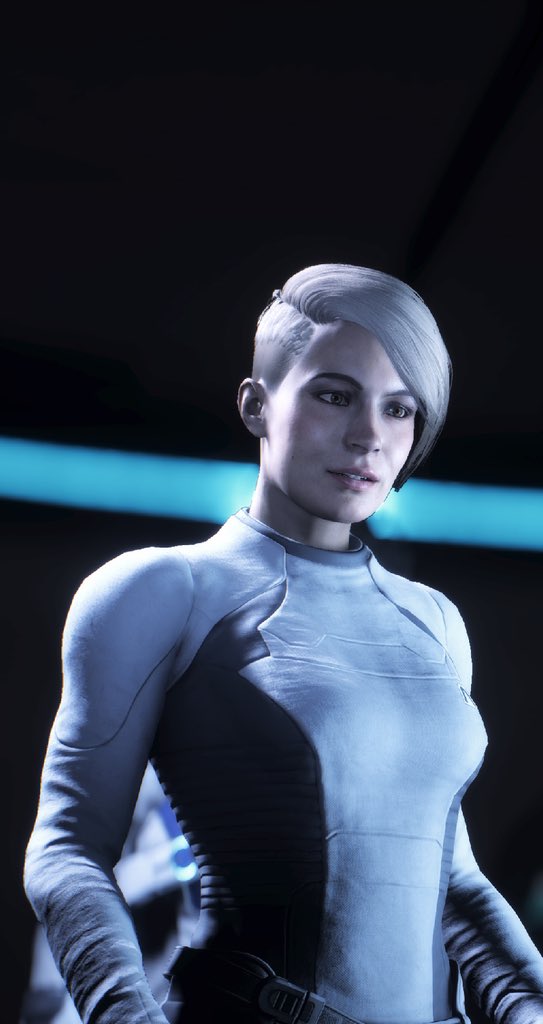 Species:
Human
Age:27
Occupation:Tempest Second in Command
Profile:Adept
Relationship:Taken by Peebee
Posts:97
Played by:Park
Sand sprayed upward, dusting the air with its haze as Cora ran and fired at the kett. The coolant system in her suit helped take her mind off the blistering heat above, but that didn't change the fact that her and Liam had gotten ambushed by a swarm of kett and were dancing on their feet as they tried to fend them off. Time was of the essence as their shields wouldn't last forever out in the open of Elaaden and they'd be burned to a crisp were they still out there when they depleted.
Not the best situation to be caught in, especially since they were heavily outnumbered with little in the means of shade or cover, but Cora was going to give them hell, to make manifest the heat bearing down on them into every shot fired, every ability used. A huntress never faltered in the face of overwhelming opposition and she wasn't about to start now. She just had to keep moving, had to keep her finger glued to the trigger.
She bulldozed a few kett with
BACKLASH
, then knelt on one knee and mowed down a couple more with her rifle, but she had to dive behind a rock to avoid the volley of gunfire that rushed to greet her. Cora swayed the avenger to and fro over the rock, blindly firing at the kett to dissuade them from advancing on her position, but at the worst possible moment, she heard the all too familiar click come from her rifle. Cora held it close to her chest, glancing over at Liam who was still tangled in the heated dance.
"Out of ammo!"
she yelled.
"Got a spare clip?!"
Tag:
Liam Kosta
LEVEL:
9
CREDITS:
2000
Species:
Human
Age:Twenty-Six
Occupation:Crisis Specialist
Profile:Soldier
Relationship:Single Pringle
Posts:161
Played by:Mo!
What. The. Hell. Where did these kett come from, and how did they trip up not one, but two members of the pathfinding team?! The ambush was clearly planned and plotted out. The kett seemed to plan everything out - hence why the Tempest often had a step up on them. They didn't run on a specific set plan. They were able to adapt to the changing variables. But right here, right now, things weren't looking too hot for the pair.
Scratch that. Things were looking far too hot for the pair. Elaaden was even hotter than Eos. Or at least it felt that way.
Liam was only a few steps behind Cora as they ditched the kett, who continued to pursue them. Running away from conflict wasn't really Liam's deal, but this situation was so different from the usual. There was little to no cover - from the heat or from the kett. Before he could dish out some serious damage, he needed some cover.
Every few feet, he'd turn and spray gunfire behind him, hoping to take out a few of them each time. Somehow it seemed like more took their place. Maybe it was just the heat toying with his mind.
Liam saw Cora take a knee out of the corner of his eye. Quickly he stashed his weapon and switched over to his handy dandy, overclocked dual omni-blades. As soon as the gunfire was targeted on her, he used his jump jet to move towards the enemy. He stunned a few kett, hoping that when Cora started shooting once more, she'd get those stragglers.
After taking out a few more kett, he used his jump jett to quickly get back near Cora. As soon as he did, her words brought a nod to his head. Reaching for the spare clip he could've sworn he had, his hand came up empty handed. "Shit!" he replied, glancing over at her. "I'm out!" Instead he reached for his assualt rifle and tossed it her way. Not the safest plan, but better than nothing. "Whatevers left is all I've got," he stated, moving towards the rock where Cora was taking cover.
Cora Harper
LEVEL:
5
CREDITS:
615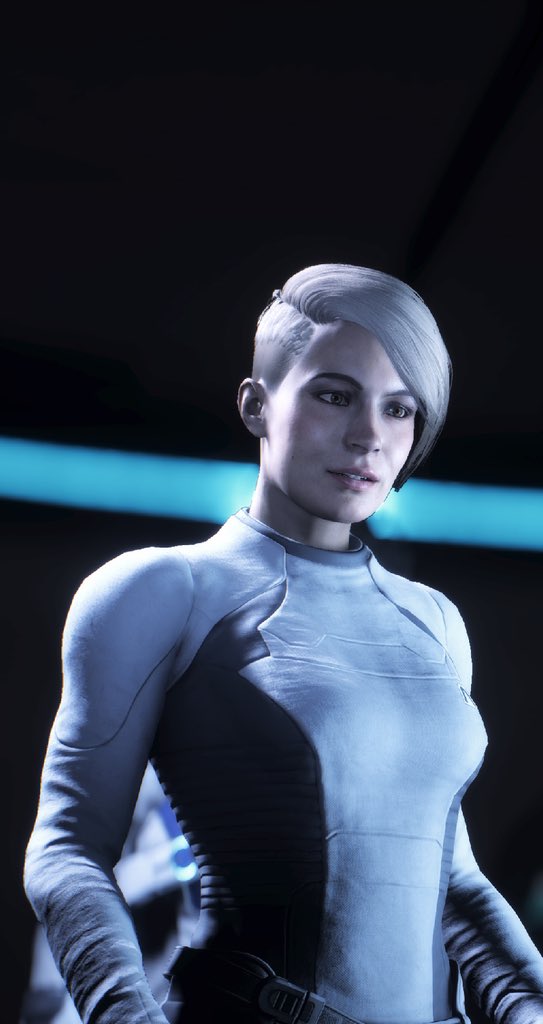 Species:
Human
Age:27
Occupation:Tempest Second in Command
Profile:Adept
Relationship:Taken by Peebee
Posts:97
Played by:Park
Resorting to her pistol wasn't an option as Cora had already blown through several clips of it and it now hung in its holster like a useless prop. Relying on her biotics wouldn't do the trick either. Her current skills were supportive in nature and would do little against the swarm of kett that bore on them like a coordinated hivemind. Accepting Liam's assault rifle would buy them time, but not a victory. They had to retreat.
"We have to get back to the nomad!"
she shouted, catching his avenger and readying it in an instant.
"Staying here is suicide!"
A huntress didn't retreat lightly, but a huntress also knew that not all fights could be won in a day. Battles could draw out for weeks, sometimes months. Even years. But it wasn't a continuous thing, not a neverending brawl for supremacy. There were times to rest and times to heal. Times to meditate and prepare. Times in between bouts of violence. Today would be one of those days, a day where Cora would disengage from the battle and live to fight the kett again after a much needed reprieve. Such is the way of the huntress.
Cora sprang to her feet and activated her
BACKLASH
.
"Go!"
she ordered Liam, leveling the avenger with one arm and spraying the kett with cover fire.
"Run for the nomad, I'm right behind you!"
The blonde backpedaled as she did this, inching toward the nomad with every step. The shield of her
BACKLASH
was already taking heavy damage, the blue hue turning to a threatening red. It wouldn't last for much longer.
Suddenly, what seemed like the whole of Elaaden shook, tumbling over the army of kett and her along with it. Cora scrambled and rolled under the nomad, watching as a huge thresher-maw like creature burst from the sands and wiped out the majority of the kett's forces. The remainder ran, or at least they tried to for they were devoured in one foul swoop of its monstrous jaws. Revving up the nomad didn't seem like such a great idea with that thing roaming nearby. They could get swallowed too and that would be the end of it.
"Good news is: no more kett,"
she told Liam who was laying next to her.
"Bad news is: that thing might just be worse than the kett."
A lot worse.
Tag:
Liam Kosta
LEVEL:
9
CREDITS:
2000
Species:
Human
Age:Twenty-Six
Occupation:Crisis Specialist
Profile:Soldier
Relationship:Single Pringle
Posts:161
Played by:Mo!
Liam didn't say a word, but nodded in her direction - whether she saw it or not. When there was a battle, Liam had to keep his head clear and pay attention to all detail. Again, after taking a breif moment of cover, he moved quickly for an advancing line of kett, using his jump jet. Again, he moved to knock out a good chunk of kett, knocking one in the face as he then retreated once more.
Once he heard Cora's "go", he moved back twoards the Nomad, wishing to stay and fight alongside his teammate. But he followed directions, and completely agreed with her sentiments. They couldn't take on this horde, out in this heat, with the limited ammo they had. If any.
Once Liam had reached the shelter of the nomad, he leaned against it, ready to join Cora back in the thick of it. Soon enough, he felt the ground shaking beneath his feet. A worried look crossed his features as he glanced to the ground and then back towards a quick-moving Cora. He quickly fell to the ground and rolled under the nomad, where he was soon joined by his teammate.
Liam watched in awe as a giant metallic creature wipe out the kett forces. It was awful and amazing all at the same time. "Holy shit!" Liam said, his dark gaze following the blazing path that it was creating. Turning to face Cora, he nodded. "Well, at least it's only one shitty creature instead of a whole horde? And hey- maybe it's friendly?" Ha, a man could dream. "How long do these fuckers hang around for anyways?"
Cora Harper
LEVEL:
5
CREDITS:
615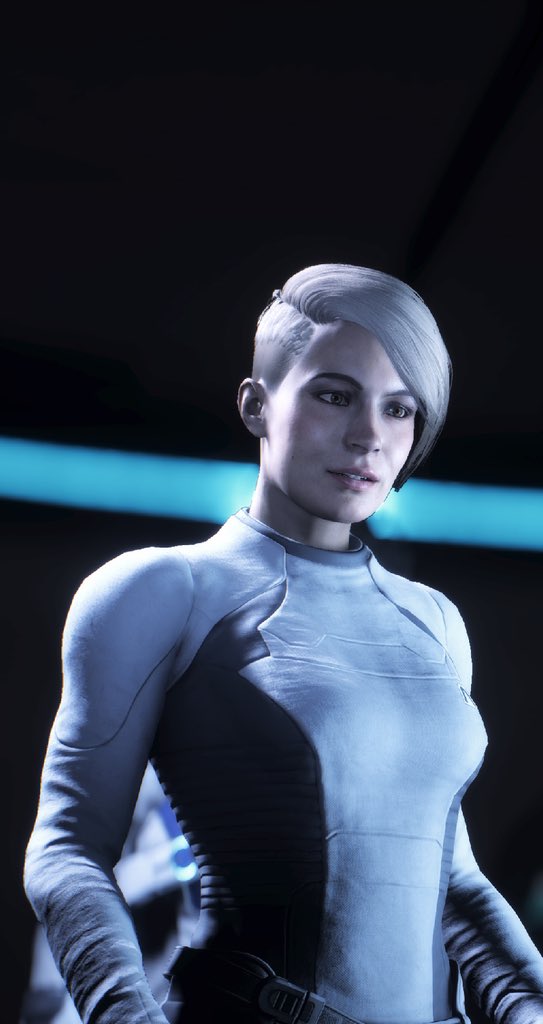 Species:
Human
Age:27
Occupation:Tempest Second in Command
Profile:Adept
Relationship:Taken by Peebee
Posts:97
Played by:Park
Liam was joking, but Cora seriously doubted the thresher maw doppelganger was on anyone's side, let alone theirs. It had eaten the kett and were they to step out from under the nomad, they would probably be next on the menu.
"Friendly isn't what I'd call it,"
she disagreed, eyes trying to track the beast's underground movement.
"We just happened to be on the right side of the battlefield."
That was just how the coin had fallen and they could've just as well been the ones it sought out first. The luck of the draw, but luck could just as easily withdraw its good fortune.
His question was a good one, though. How long did a creature like that stick around before moving on? Cora brought up Elaaden's database on her omni-tool, scrolling through discovered fauna. She eventually found the page she was looking for, but it was pretty bare. Not much was known about it other than it was frequently sighted around this area. Go figure. Out of all the places they could've been ambushed in, they were ambushed right in the middle of its hunting ground.
"It's as much a mystery to the krogan as it is to us,"
she said, relaying what she had read in the database.
"We're on our own."
But what could they really do? They had no ammo and even if they did, it would only serve to piss it off, and they couldn't escape in the nomad either. The two were stranded in every sense of the word. The most they could do at the moment was try to wait it out and hope it didn't stay for longer than a couple days. They hadn't the provisions to last longer than that. It had supposed to be a quick trip.
Cora plucked a device from her utility belt and set it beside her and Liam. She never thought she'd actually need it, but when stranded and out of options, what else was there? The blonde tapped the metal plate and it unfolded it a chessboard. She tapped it again and the board flashed blue, virtual black and white pieces appearing on their prospective sides.
"Black or white?"
she asked, re-positioning on her side.
"Just swipe the corner of the board to switch colors."
Tag:
Liam Kosta
LEVEL:
9
CREDITS:
2000
Species:
Human
Age:Twenty-Six
Occupation:Crisis Specialist
Profile:Soldier
Relationship:Single Pringle
Posts:161
Played by:Mo!
How did Liam handle stressful situations? With humor of course. It seemed to put everyone at ease and fidning the positive in a situation wasn't as hard as it sounded. Andromeda had proved to be a true challenge for Liam in that sense, but all things considered, he felt as if he was doing a pretty good job. They had the chance to actually change how things went down, that was enough to keep up the hope.
Even if you were trapped in the sand unerneath a nomad while a giant thresher maw took out Kett. Liam chuckled as Cora spoke and nodded as if he understood. "Luck was on our side today," he agreed as his dark gaze traveled back to the creature. It was amazing, in a horrific way. Pure power - no hesitation.
"What a better way to gather intel, than in the battlefield?" he added with a small grin. Andromeda was definitely full of far more questions than answers. It made sense that a creature this large was able to flourish on a place like Elaaden. It was a harsh environment and a ton of open space with little to bother it.
Liam's brain was already dodging from idea to idea, when suddenly Cora's words crashed through his thought process. Cora was met with a rather confused Liam Kosta for a brief moment. He glanced down at the chess board now adorning the sad. It was the last thing he thought Cora would have - although the woman always seemed to be prepared. For literally anything. A chuckle escaped his lips as he shrugged. He swiped the corner of the board rather hard, allowing the virtual board to spin a few times and finally stop with the white pieces on his side. "White it is?" Fate had spoken!
Cora Harper
LEVEL:
5
CREDITS:
615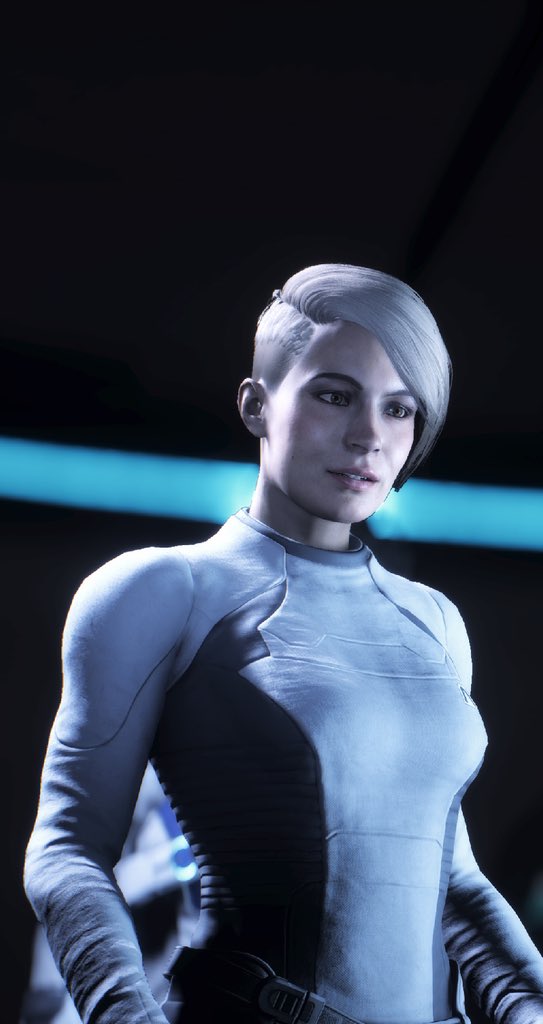 Species:
Human
Age:27
Occupation:Tempest Second in Command
Profile:Adept
Relationship:Taken by Peebee
Posts:97
Played by:Park
The sands of Elaadeen shook, quaking as the thresher maw circled the nomad. Cora was sure it sensed something was there, but it wasn't positive as to the what. While this would play to their favor, it was still a deserted island scenario with a predator hunting in the shallows. The island was what protected them, but on the island they couldn't stay. It was a makeshift sanctuary and eventually they'd have to make way to the Tempest. The blonde just hoped it would seek other prey before that eventuality came to pass.
Chess was strategy at its finest and Cora loved to whip out the board every once in awhile and keep her mind sharp. Now was as good a time as any since they couldn't move from the spot, but there was no telling what kind of sparring opponent Liam would prove to be. He was a former police officer and was bound to have experience under his belt, but those unfamiliar with how to play wouldn't be able to push their strategy to the limit. Who knew, he might wind up surprising her. Couldn't find out until they started playing.
It was important to keep your walls strong, but it was just as important to not trap yourself behind them, so for her first move Cora moved a pawn forward two squares.
"Your move, Kosta,"
she said.
"What do you think of our progress in Andromeda so far?"
Tag:
Liam Kosta
LEVEL:
9
CREDITS:
2000
Species:
Human
Age:Twenty-Six
Occupation:Crisis Specialist
Profile:Soldier
Relationship:Single Pringle
Posts:161
Played by:Mo!
At least they'd have a good story when they got back to the Tempest? How they survived a thresher maw attack, and a wave of kett while running out of ammo. How badass did that sound?! They even had some downtime to play chess. The Tempeste crew was clearly one of a kind, and Liam wouldn't have it any other way!
Sure Cora didn't always put up with his shenanigans, but he liked that about her. He respected her enough to give her space when she needed it, but he was always around to bug her when she had time.
Once Cora moved her pawn two forward, he mirrored the movement with a smile. Such a sad game for pawns, no wasn't it? They were often sacrificed for the greater good... Which seemed to be a trait of most people in power. Tann included. Cora's question caused Liam to tap his chin in thought, "I mean, we could be farther... but I'm pretty damn happy based on where we've started. We aren't dead, we've made some alien contact. It's a start that we can grow from." He nodded as he finished, as if reaffirming his statement. "What do you think?" They viewed life in different lenses and he was damn curious what Cora's opinion would be.
Cora Harper
1 User(s) are reading this topic (1 Guests and 0 Anonymous Users)
0 Members: