Journey to
Mass Effect Andromeda Roleplay
the Stars
Peanut Butter & Vetra
, [Tag: Peebee]
LEVEL:
2
CREDITS:
600
Species:
Turian
Age:27
Occupation:Pathfinder Team
Profile:Infiltrator
Relationship:Single
Posts:43
Played by:Whammy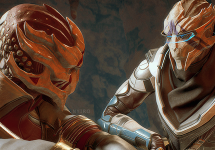 "I can guarantee you the Nexus is going to appreciate the medical supplies. Once I pick up the package on Kandara I'll get the blueprints sent off to you asap"
she said, finishing off a conversation with an Angaran.
It was a simple trade: blueprints on some new weapon technology in return for some medical supplies for the colonies. Apparently the Angaran military had gotten word about those missing prototypes based on Angaran she was trying to snag, and this seemed the best way to keep things calm. The Angarans still didn't quite trust the denizens from the Milky Way, so having heard some of their tech was being poached had not gone over well. A promise to return the blueprints over to them so they could see what was being done seemed fair enough, and she got some medical supplies out of it. Over all, not a bad day.
Closing out of the computer, Vetra swirled in her chair a bit and leaned back, taking a moment to close her eyes and relax. Having spent all day on this, she had gotten quite the little computer headache. At least one advantage of being in the bottom of the ship was she had a pretty decent amount of privacy…
Tag:
Peebee
LEVEL:
8
CREDITS:
2985
Species:
Asari
Age:113
Occupation:Rogue Academic
Profile:Sentinel
Relationship:Coco Harpoon
Posts:119
Played by:Ellie


Peebee's new pet project was nearing its completion. She had been working on it ever since she discovered the remnants and their remtech and she hadn't shown anyone, not until it was complete. Either fear of someone stealing it or simply from her perfectionist and narcissistic personality, she couldn't tell for sure. But regardless, no one but she had seen it and that's how it would remain until it was completed. However, she was missing a few parts, most she knew where to find - remnant vaults - she had spotted the parts in the vault on Eos with Sara. But there was still one part that she could get. It came from remnants themselves but every type she tried to get it, the remnant seemed to destroy it. Then Vetra came to mind, if Peebee couldn't find the piece, Vetra could find someone who could.

The asari quickly made her way down to Vetra's quarters, opening the door. She saw Vetra sitting on her chair. "Hey there towering cutie," she addressed, leaning on the doorway with her shoulder. "I need your help getting something. This isn't just your average 'thing' though. It's remtech a-a-a-a-nd it's hard to get, which is why I came here." Peebee fiddled with her omni-tool until an image of the piece of remtech appeared, although like all those that she had found, the one in the image was scorched and unusable. "I need it for my pet project, it'll be worth it. Don't worry."

"I'm willing to… uh," she thought for a moment. What could she trade Vetra for this part? "Trade you credits. Or 'Free Help from Peebee' coupons. Or you know, whatever…"


--------------------
LEVEL:
2
CREDITS:
600
Species:
Turian
Age:27
Occupation:Pathfinder Team
Profile:Infiltrator
Relationship:Single
Posts:43
Played by:Whammy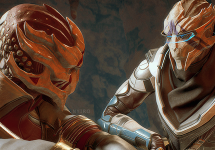 Now that she had dealt with that Angaran stuff, Vetra was in her room actually getting a bit of a chance to relax. Sure, she could start up some more work, but she had a headache and just wanted some "Vetra Time".
She booted up her computer, going through her movie files to look for something to watch. It was risking it to go for a full movie, but she figured she'd take the risk. That was what she was after all, a risk taker. Since survival was a top priority in Andromeda there had yet to be any new movies made – well, outside of some homemade stuff – so all that was available was classic Milky Way movies. That was a weird thought, now that she realized exactly what that meant. It also meant, if civilization still existed back in the Milky Way, they now had the greatest collections of "classics" ever.
Anyway, she clicked to download that classic romance
Fleet and Flotilla
, and started to wait. She eyed the crate of "Blast-O" cereal she had brought from the Nexus. It was ideally for trade, but part of her kind of wanted to enjoy a bowl of the special dextro-friendly brand. Something nostalgic about just eating cereal and watching a movie: that was often the only entertainment her and Sid could afford sometimes. From a business perspective it was a bad idea, but…
"Hey there towering cutie."
Yep, there went the free time.
Swirling in her chair to face Peebs, she listened as the Asari made her pitch. Not surprisingly, she needed some remnant tech for her "project", with all she had to go on being an image of a burnt and damaged one. Taking a breath and leaning back into her chair, she got into her "smuggler" mode, staring Peebee down. Compliments about being a cutie weren't going to get her anywhere when there was business on the line.
"To be honest, I think I'd take the credits over the coupons, no offense,"
she said, her mandibles flexing slightly in a bit of a smile. She was teasing Peebs a little, but she still thought the Asari a little flighty, and so she'd rather have some hard credits over coupons she might have to chase her halfway across the cluster to cash in on.
"So, what exactly is it that you're needing me to track down here? As far as I can tell, that's just a bunch of burnt up metal and circuits."
Tag:
Peebee
LEVEL:
8
CREDITS:
2985
Species:
Asari
Age:113
Occupation:Rogue Academic
Profile:Sentinel
Relationship:Coco Harpoon
Posts:119
Played by:Ellie


Peebee gave Vetra a pout when she took the credits over the coupons. Who could refuse 'free help from Peebee' coupons? They only expired after a week. Nonetheless now she had to spend actual money, unfortunately, although she didn't feel as bad considering Vetra was part of the crew. If the turian was some random smuggler then she'd definitely rip her off or not pay her once she received the rem-tech.

"No offence taken, Vetra," she said with a forced sad voice. "After all, who could ever trust me enough to help them in their time of need?"

Peebee then gasped. "Just a bunch of burnt metal and circuits?! I am beyond offended, I thought you of all people would be able to see where the money is." She pointed towards the piece that she required. "This is simply what I call the 'VI Conduit', it's what makes Remnant what they are and it's what programs their behavior and what they do, when they do it. This isn't just some piece of junk."

"If you can help me get one of these things intact then through my pet project I'll be able to know how they work and maybe in the future, reprogram the Remnant to work for us. You know… instead of trying to kill us whenever we get close."


--------------------
LEVEL:
2
CREDITS:
600
Species:
Turian
Age:27
Occupation:Pathfinder Team
Profile:Infiltrator
Relationship:Single
Posts:43
Played by:Whammy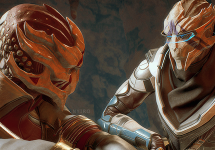 "I trust you to be there in my time of need. I just don't trust coupons though. Always missed the expiration dates on those things"
she said, hoping there were no hard feelings. She could sense Peebee was playing around, but she wanted to make things were alright. Also, she was lying: she never missed the expiration dates on coupons. She was a master smuggler and bargain hunter, after all.
And while it was true she was an excellent smuggler, that didn't mean she was always on the up and up with tech. Whatever the hunk of scrap she was looking at was, it apparently was a really big deal the way Peebee talked about it.
"It would be nice to have less thing trying to kill us,"
she replied.
"But, that still doesn't tell me anything about where this thing is and how dangerous is it to get? That tends to be a big part of determining my asking price."
Tag:
Peebee
LEVEL:
8
CREDITS:
2985
Species:
Asari
Age:113
Occupation:Rogue Academic
Profile:Sentinel
Relationship:Coco Harpoon
Posts:119
Played by:Ellie


"Yeah, I guess you're right," spoke Peebee on the turian's comment on never being able to check them in before they hit their expiration date. Peebee was not one that was known for being able to arrive on time or finish things on time or cashing things on time, in fact whatever involved time was quite difficult for her. She didn't care though, after all, it wasn't her who was getting screwed over, right? "Good thing you picked the credits, because, I uh.. well, I don't have any coupons on hand. I could make some! But it might just be easier to give you some credits for helping me get this part."

"Sure, less things killing us would be an advantage, but there's so much more to be had if I could find a way to reprogram these machines." Oh the possibilities! Her mouth nearly watered at the simply thoughts of everything that she could accomplish and uncover with her little pet project. Her project could be the stepping stone into understanding, manipulating, and re-creating the technologies of the Remnants. It would be the first greatest discovery of the Milky Way people in the Heleus Cluster and it would have Peebee's name written all over it! "If I can crack their encryption then I'll be able to understand who the Remnant technology works. Their virtual intelligence, their architecture, their gravitational manipulation, and maybe even their Vaults. Oh, or maybe one day I can even crack an architect! However... I'll need that VI conduit first."

"As for where you can get one... it really depends. From what I've seen, Breachers, who are created by Assemblers don't have a developed virtual intelligence like their creators or brethren. I'm guessing this from the fact that their power cores are improperly shielded and many of their inner workings are exposed. Which suggests that they are created for short-term deployment to handle intruders, and you know, other mumbo jumbo that I doubt you really care about. Then there's the Creepers who are the synthetic small bug equivalent of wildlife. Again, I doubt they have one. So that leaves; Observers, Nullifiers, Destroyers, and Assemblers."

"What I need from you is to try and find someone who some how got their hands on a working VI Conduit, or at least one that isn't too scratched up. Well actually it doesn't matter how damaged it is as long as it works. If you can't find anyone that has one then getting someone to get one would be the best bet, I'd do it myself but I don't have much time to go running around in Remnant ruins anymore, unfortunately. So yeah... that's what I'm going to need, from you."


--------------------
LEVEL:
2
CREDITS:
600
Species:
Turian
Age:27
Occupation:Pathfinder Team
Profile:Infiltrator
Relationship:Single
Posts:43
Played by:Whammy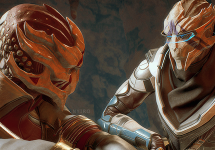 Vetra listened as Peebee made her case on why all of this was an important thing to try and get a hold of and what her role would be in it. All of it made some sense: get access to the AI, understand the tech, get access to all the tech they kept finding. Of course, however, the one's most likely to have an intact core were the big boys. Her mind was already thinking of how much a pain those fights would be. Well, how much a pain they would be if she couldn't find one. Thing was, the groups that were usually out there fighting those things were usually the bigger, more powerful ones out here in Heleus. Angara, though they could be worked with. Kett, which was right out. And, well, people like them.
"I can keep an eye out for any information, though not sure how open any of them would be to selling. My gut says anyone who has that sort of thing and knows what it's worth probably has the same ideas as you do,"
she says, leaning back in her chair a bit.
"It might be easier to talk with Ryder and have this as an official mission, if I can't find anything at least. I think you got the pitch down pretty good though, so I doubt you'd have trouble making your case."
Tag:
Peebee
1 User(s) are reading this topic (1 Guests and 0 Anonymous Users)
0 Members: