Journey to
Mass Effect Andromeda Roleplay
the Stars
Surprise!
, tag: Vetra/Whammy
LEVEL:
1
CREDITS:
190
Species:
Turian
Age:18
Occupation:Communications monitor
Profile:Explorer
Relationship:single
Posts:36
Played by:Atma
It started with a cryptic message left on Vetra's comm unit from her little sister, Sid. The body was short,
"Don't stay out too long!"
Strange, perhaps, but Sid is known to like getting playful in her emails.
Of course, Sid would know when a ship was docking given her position, so maybe the surprise party in a very human style was not too surprising. Still, upon entering the residence on the Nexus that the Nyx sisters share, Vetra will find Sid waiting eagerly, balloons, some of the station personnel that Sid works with and Vetra knew from before the Tempest... and a cake. A big cake with candles all over it and that sugary sweet frosting so loved by humans. As well as balloons. Maybe even a relatively quiet -- but still shockingly loud -- air horn as she walks in. There's even a relatively quiet, as such things go, air horn that Sid fires off before saying rather loudly
"Welcome back, sis!"
and eagerly giving the elder Nyx a hug.
The younger Nyx has even arranged a significant amount of refreshments though again she seems to be on a human culture kick, more specifically something akin to the nation they call "America". The various guests, including the odd salarian or two as well as a few of the turians from ops and a couple of humans do seem to be enjoying themselves, at least -- and not a small number that Vetra met before her posting on the Tempest greet her warmly as well, if not quite as warmly as Sid.
TAG

: Vetra Nyx
LEVEL:
2
CREDITS:
600
Species:
Turian
Age:27
Occupation:Pathfinder Team
Profile:Infiltrator
Relationship:Single
Posts:43
Played by:Whammy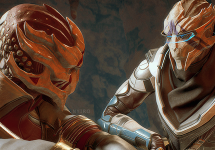 With everything calmed down after the plague, it was nice to be able to have some time to relax on the Nexus. Once it came out the disease was particularly deadly for non-humans she had been quarantined on the Tempest. The result had been a serious case of cabin fever. That, and constant anxiety about her sister's well-being. Now that things were under control, however, she tended to visit often enough Sid's apartment was basically her apartment too. She knew she needed to give Sid some space but, well, old habits died hard.
So it was a little weird when Sid told her to not stay out too long. She was the older sister, so wasn't she supposed to set the curfew?
Alright, mom.
she wrote back, playfully of course. Still, once she was done with helping with some of the cargo transports and setting up some supply deals for the Tempest, she figured she might as well swing by home to see what Sid was up too. Feeling a little lazy, she also swung by and grabbed dinner, which even among some of the few 'restaurants' that had developed were mostly more rations than a full meal.
"Hey Sid, I got—"
An airhorn and a hug later, Vetra had a full idea of the scene in front of her. Balloons, a cake, a bunch of people she new and some of Sid's work buddies. She returned the hug, never one to miss that chance, but she still wasn't sure.
"Uh, hi there everyone,"
she says, giving them all a bit of a wave before turning her attentions toward Sid.
"I didn't forget a birthday or anything, did I?"
She had Sid's birthday and about a million alarms, so she was pretty sure it wasn't hers. The same could be said for the Tempest crew. The rest of those here, however, she admitted she could have forgotten about in all the commotion recently
Tag:
Sidera Nyx
LEVEL:
1
CREDITS:
190
Species:
Turian
Age:18
Occupation:Communications monitor
Profile:Explorer
Relationship:single
Posts:36
Played by:Atma
So this would be why Sid never replied to that playful barb! She had been busy putting this together. Giving a broad turian grin, mandibles pulled apart and maw open, the younger Nyx giggles a bit before answering;
"Nope! It's a welcome back party! I missed you, with everything going on, and I was worried and... ah, anyway, so!"
It could almost seem as if she was avoiding the topic of recent events, and... was that a hint of fear in the tightening of the flesh visible around her eyes? Things only a sister could spot.
"I'm glad you're ok, I really am."
she finished with unusual candor. Before it gets any more awkward for the rest of the crew hanging around, she turns to the crew with a grin.
"Time for the cake! It's human style, I think, ah, specifically America though other nations may have done it too."
Walking over, starting to cut it,
"Oh, don't worry. Dextro based."
she volunteers before handing a slice to Vetra.
"I hope you like it... that chemist guy at the Vortex, strange guy that's always serving bar, he made it. I think it tastes good, if... ah, sweet is the word?"
Indeed, the cake is cloyingly sweet -- would be, if translated to levo and fed to a human even. Perhaps even more so as dextro sugars tend to taste sweeter on the tongue. It is amazingly well cooked though, fluffy and light and moist -- which on a very dry, relatively chilly space station is no small feat. Sid also offers slices to all of the dextro compatible people at the party.
LEVEL:
2
CREDITS:
600
Species:
Turian
Age:27
Occupation:Pathfinder Team
Profile:Infiltrator
Relationship:Single
Posts:43
Played by:Whammy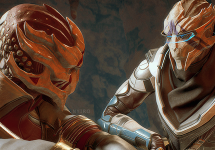 Okay, good, so she didn't owe anyone any birthday gifts right now, and she hadn't gotten so confused as to have forgotten her own either. It was more a "we're all okay" kind of deal. Her entire body relaxed, allowing herself to smile. Honestly, they all could use that kind of thing after everything that had happened so far.
"Glad you're okay too, sis."
Of course, they had guests too, and the two of them were on wavelength about not wanting to make things awkward by having too long of a sister moment. She was a bit surprised about the cake. With how tight things had been the idea that something that was ultimately a luxury could be made was still amazing. Probably the oddest little sign that things were slowly getting better. Still a mess, but better.
"Dutch made this?"
she said, her mandibles shifting slightly as she gave it a suspicious glare. He hadn't yet poisoned anyone, but something about that guy just gave her a bad sense. She gave it a small taste nibble and…yeah, that was
really
sweet. Sweets weren't quite her thing – minus the occasional sugary cereal – but she wasn't going to knock her sister's efforts. Instead, she kept eating, slowly so her tongue could rest a little between bites.
And now that Sid was out distributing cake, she wasn't quite sure what to do now. She was good in a deal, a bit more awkward in just normal socializing and small talk. You didn't get a whole lot of that in her line of work.
Tag:
Sidera Nyx
LEVEL:
13
CREDITS:
1910
Species:
Human
Age:Twenty-Two
Occupation:Pathfinder
Profile:Explorer
Relationship:Manwhore
Posts:333
Played by:Aurora
Scott was more than convinced this was a birthday party, no matter how many times he'd been told it wasn't. They were still giving immunity shots out while they cleared the algae out of the water supplies. His arm felt sensitive but that really was his only complaint for the time being. Before Vetra arrived he'd made himself at home over by the refreshments table. How Sid had managed to pull off all this food he'd never know. Scott hoarded as many packs of twinkies into his jacket pockets as he could before moving on to try a bite of just about everything.

The airhorn almost made him jump out of his skin, Vetra was finally here. "Surprise!" he bellowed from the back of the room, mouthful of twinkie, his arm coming up to wave at her from the crowd. She probably didn't notice him. That actually might have been a good thing. Washing down the rest of the twinkie with a soda he was well and truly satisfied. This buffett was fit for a king. Hell of a lot better than hose daily ration blocks of food. That shit was built for hamsters, not Scott shaped people.

By the time Sid and Vetra had finished their little moment, Scott hurried on over to greet her. "Your sisters really pulled out all the stops for this party, so happy early or late birthday" he grinned back at her, hand reaching out to pat her arm. They weren't quite at the stage where he could throw himself at her for a hug and handshakes always seemed too formal. "The invite was a little too last minute for me to get you anything good, but here, don't eat it all at once." He fished out one of the packaged twinkies from his pocket to hand to her. That should totally count as a present.
LEVEL:
1
CREDITS:
190
Species:
Turian
Age:18
Occupation:Communications monitor
Profile:Explorer
Relationship:single
Posts:36
Played by:Atma
Moving through the party easily, the younger Nyx munches on some of the cake distractedly. At least until she sees Scott, at which point she rushes over with a broad grin on her face, mandibles splayed out in a smile.
"You made it, Scott! AWESOME!"
she says, the last word in as good of English as her alien mouth will allow. The translators somewhat don't know what to make of it, but despite the flanging and clickiness, it does come out intelligibly. She may not know him all that well herself, but nonetheless she throws herself into a hug of him -- almost a pouncehug -- with the carelessness of youth.
"Anyone else coming? I know I sent an email to the Tempest crew sans big sis there but I didn't get a reply. I know I put this together so last minute but it was just... we all just needed some time to enjoy ourselves."
Awkwardness ensues as she hastily shoves a bite of cake in her mouth. The surprising thing is she seems to genuinely like how sweet it is, savoring the flavour.
"I thought of putting on some TV shows, I mean the Nexus does have that huge database... not much early twenty-first century stuff sadly. I used to catch these things called "anime" with a friend back on one of the mercenary worlds we lived on..."
With that she stops and giggles at a thought;
"Ooooh! I know!"
Turning and rushing off, next thing Scott knows the TV is on and playing some old animated thing from the Earth nation called "Japan"; apparently after its opening involving some horribly butchered and barely intelligible English mixed with Japanese sung with the various characters getting into hijinx and fighting skeletons then emotionally whiplashing to a peaceful scene of characters relaxing among cherry blossoms, the name is shown to be "Gintama".
LEVEL:
2
CREDITS:
600
Species:
Turian
Age:27
Occupation:Pathfinder Team
Profile:Infiltrator
Relationship:Single
Posts:43
Played by:Whammy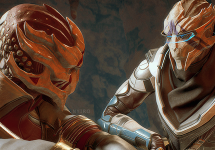 Now there was a familiar face in the crowd.
"I must be slipping if you knew but I didn't,"
she said, chuckling. She totally didn't keep track of all the ship communications, or her sister's messages. Nope, not at all.
Turians didn't have eyebrows, but if they had, she would have raised it when Scott handed her the twinkie.
"Uh, thanks?"
she said as she took the package. This wasn't really something she could eat, after all, but apparently some humans would pay a decent amount of credits on the market for these. Now that she thought about it…
"Actually, I'm a little surprised she was able to get these. Not exactly the hardest or most dangerous of contraband, but there's a bit of a market for them,"
she said, holding up the package and looking it over.
Her thought was interrupted, however, as Sid glomped onto Scott. She was glad her sister was enjoying herself at least, and that she felt comfortable around the squad. She was gladder her squad was made up of people she felt comfortable letting Sid be comfortable with. Before she could really talk, however, Sid was already off playing host again, this time apparently turning on some of that anime stuff. That was never really Vetra's thing, but from her understanding it was a big hobby among the 'dorkiest' of the humans, so that fit at least.
And now back to figuring out the small talk thing.
"So, Scott, been having a good shore leave?"
Tag:
Scott Ryder
,
Sidera Nyx
LEVEL:
13
CREDITS:
1910
Species:
Human
Age:Twenty-Two
Occupation:Pathfinder
Profile:Explorer
Relationship:Manwhore
Posts:333
Played by:Aurora
"Y'know it'll be gold to use in a bribe next time we're docked at Kadara" he teased with a wink and a grin. Scott's own twinkies wouldn't last that long. Oh no, he was going to enjoy every single one he'd pocketed like a kid in a candy store.

"Oooft! Hah! Sid, hello to you too." The pounced hug came from the side unexpectedly which knocked some of the air from him. Scott caught his breath between his laugh, he thought that more people should seriously greet like that. He didn't mind it one bit. "Yeah, course I'd make it. Thanks for the invite by the way. How did you even find these twinkies?!" He gestured to the one he'd offered Vetra. He tilted his head to Vetra's question. "Shore leave? Oh man it's been one big party! Kinda ironic considering we're currently in a party…" That was too deep for Scott. He shook off the slight existential crisis going on in his head. "So how about yours anyway?"

Sid asked if anyone else is coming and he shrugged, Scott couldn't possibly know for sure. Knowing the team though, they'd arrive fashionably late. "Probably? Drack is with Kesh, probably picking at his own arse. Liam is… actually I don't know where Liam is. Haven't seen him since we landed." Hand dipping into his pocket, he unpackaged and stuffed a twinkie into his mouth.

"You know what?" he mouthed between chewing this delicious delicacy, "I'm gonna round them up. I'll be back in a bit!" Before they had chance to stop him he was off like a lightning bolt. Out to go round up the troops missing from the party! Mouthful of twinkies along the way. Scott was optimistic he could get it done before the night was over.
Sidera Nyx
&
Vetra Nyx
OOC - I'm poofing out for now but set it so you could keep the parting going!
If this thread is still going on when I get home from my trip I'll definitely rejoin ♥
LEVEL:
2
CREDITS:
950
Species:
Turian
Age:39
Occupation:Natanus Head of Security
Profile:Infiltrator
Relationship:Macen Barro <3
Posts:27
Played by:Tribble
Avitus Rix had just gotten back from a long mission away from the Nexus when he gotten a strange message on his omni-tool. An invitation for a surprise party for a Vetra Nyx? This was strange. And it seemed to Avi that it was mass sent out to people. He was about to delete it but as his talon hovered over the delete button for far longer than necessary, he thought to himself
'is it really worth it being alone?'
He did have Macen but no friends as of yet.
He read the invite a little closer and realized that he was already late to the party. Cursing under his breath, he started to jog towards the living area where the party was at and passed the Pathfinder's twin brother on the way.
'Huh, this really is a small place,'
he thought to himself as he entered the apartment that was listed on the invitation and saw there was already a small group in there.
He thought about backing out now but he wasn't a chicken. He squared up his shoulders and marched into the main area like he was going into war. At least he was interacting with others...at least now that he had finally reached the Nexus like he was supposed to have done ages ago.
LEVEL:
1
CREDITS:
190
Species:
Turian
Age:18
Occupation:Communications monitor
Profile:Explorer
Relationship:single
Posts:36
Played by:Atma
Spotting a new person enter just after Scott rushed out -- probably passing Avi as he went -- Sid practically squees, bouncing over with a slice of that dextro cake Dutch made on a plate to push into Avi's hand.
"Hey there! Oooh, I don't know that I've met you before. Think I've seen your picture... ah, Des's husband, right?"
she asks enthusiastically.
"Hey! Vetra sis, Des's husband came by! Come on over here!"
she calls out happily, a turian grin spread across her face with mandibles spread wide.
The frosting is cloyingly sweet in a way that is rare for turian food, but the cake itself is made perfectly. The party's pretty low key, but there are a few random station personnel around.
"Thank you for coming! It's always great to get more people around, especially after all that happened recently here and all..."
Sid says, trailing off at the last part. She doesn't let it rest for long though, forging ahead;
"How rude of me! I'm Sid. Sidera Nyx. Work comms in operations, and if my big sister would ever stop being so protective, would be out helping us get started here in Heleus!"
she says, obviously at least a little proud of her position -- and losing no opportunity to rib the elder Nyx.
LEVEL:
2
CREDITS:
600
Species:
Turian
Age:27
Occupation:Pathfinder Team
Profile:Infiltrator
Relationship:Single
Posts:43
Played by:Whammy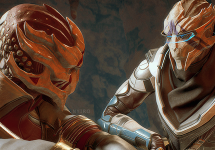 Having been left alone by Scott, Vetra had been spending some of the time trying to make small talk with some of the other guests. She was alright, but admittedly just hanging out and being casual with station workers was a bit difficult. If anything, it was more her talking about whatever the Pathfinder crews had been doing and their adventures, like she was a storyteller. So, when Avitus showed up, she was glad for the opportunity to duck out and talk with someone a bit more in the same field as her. She was a little surprised he was here, though, as she really hadn't had any connections with him. A part of her was now worried Sid had basically just CCed everyone in the Nexus on the invitation email.
Before she could talk with him, however, Sid arrived. She was an excellent host, at least. A bit off in her identification of her guest.
"Not quite, Sid. Seems you invited Avitus Rix from Macen's ship,"
she said, extending a hand.
"Vetra Nyx, from Ryder's crew. Pleasure to meet you, Avitus."
She let Sid do her hosting spiel, but she had to internally sigh at Sid's ribbing. She was doing plenty to help here on the Nexus, and she didn't like her downplaying her contributions just to justify her wanting to go out in the field. This was a party, however, and they could fight about it later. Might as well follow up on some stuff she had heard.
"How's Macen doing anyway? Heard he had a bit of a rough time coming out of cryo"
That was an understatement from what she heard, but she'd rather have Avitus's perspective on exactly what was going on with the Turian pathfinder.
Tag:
Avitus Rix
,
Sidera Nyx
1 User(s) are reading this topic (1 Guests and 0 Anonymous Users)
0 Members: