Journey to
Mass Effect Andromeda Roleplay
the Stars
It's a Blind Date?
, Tag: Orchid/Luciano
LEVEL:
8
CREDITS:
1965
Species:
Human
Age:23
Occupation:Mods Merchant
Profile:Engineer
Relationship:Hella Single
Posts:83
Played by:Majora
When Angel had agreed to this it was only because he'd seriously been working too much, ever since the polluted water supply making the aliens on the station sick he'd been working overtime to help the rest of the engineers make sure nothing like it happened again. Needless to say the work had been long, and arduous as every one of the engineers took this as a personal affront to all the work they'd done to maintain the Nexus. Knowing that a bit of algae had caused all the problems, that they hadn't been able to scan for it was infuriating. Now they were striving to make sure that the water filtration systems were as powerful as they could be, and while Angel didn't know a lot about agricultural systems he was more than willing to help. But that had been before he'd actually collapsed from working so much, though to be fair he wasn't the first Engineer it had happened to, they just wanted to make sure the work was sound so the Roekaar or even the Kett wouldn't be able to do anything like that ever again, it was maddening to know that it was their own faults.
It had been while he was resting that one of his fellow Engineers, probably the best besides himself, had came to visit him and asked him for a favor. Andrea Mastroianni normally didn't ask anyone favors, but currently Angel had felt that the man had needed something important done so had agreed to, of all things, go on a blind date with his brother. Luciano Mastroianni was an architect and working on the housing problems of being in the Andromeda Galaxy, but also needed down time. Andrea promised to pay for the entire date, and was even sending the pair of them to Aya of all places, one of the very few places that Angel had been dying to go to. When the order came through that the pair had been allowed in Angel had finally realized that he was going on a date, and that he hadn't been on an honest date in who knows how long, well, never really, well no there'd been that one date back when on one of his ships but it didn't really count did it? So he'd acted like a thirteen year old girl and had fretted for about three hours about what to wear on his date.
After finally choosing an outfit he was on the next shuttle to Aya, and he headed straight for the restaurant he'd been told about. Some sort of open area type concept, it had a great view of the land below, even if some of it was burning, it was still a very beautiful place to sit and have a meal with someone he'd never met. Sitting at the table he waited for about five minutes before he was pulling out a small black cube, it was one of his holo-imaging cubes. He was still trying to figure out how to create a sustainable power source, but for the moment it was a welcome distraction from having to wait. He'd preprogrammed a few holographic images into the cube, ones that would be welcomed if things ever went wrong when he was out in the field. For now though it was a very welcomed distraction as he gently took the top part off and slowly started working on a few of the wires, to make sure they were properly connected, even though he knew they were he just needed something to do.
Will find an outfit
?
Tag:
Luciano Mastroianni
LEVEL:
7
CREDITS:
115
Species:
Human
Age:28
Occupation:Architect
Profile:Soldier
Relationship:Single Pringle
Posts:71
Played by:Orchid

Of all the things Andrea had done in their lives, this one took the metaphorical cake. He agreed to this blind date with a rolling of his eyes when it was presented to him. Luciano worked himself until he passed out every day since given the job he'd come here for. The Nexus lockdown set shit on fire, in every way possible. Luciano had been with the rioters, one of the few humans brave enough to rally against his own people. He couldn't put it past his own people to be impartial. He'd met so many xenophobic assholes in his life, most were humans too.

Well, he had to trust his brother, right? He hadn't been on a date in well over six hundred years, since probably two years before entering Cryo. How did this work again? Dress up, dress down? He didn't know! Panic set in as he prepared for that trip to Aya, a place that Andrea informed him was almost a dream. Ultimately Luciano took three shots of some mysterious alcohol and fortified himself. They weren't going to the fucking moon or Thessia, it was a planet Luciano had never seen in his life filled with a strange alien race and a potentially very cute man there for him.

What a way to ignite those nerves again! Having female friends really came in handy and unfortunately none were to be had here. So, he picked whatever the hell he thought might look acceptable. Luciano wasn't a man of fashion and Andrea had corrected his attire twice before deeming his brother's choice acceptable. Could be worse, he reminded himself every time Andrea criticized his choice… He huffed a sigh as he headed out.

"Cazzo, sono in ritardo!" Luciano hissed to himself as casually rushed through the streets of Aya. Late was fucking hate and Luciano did not pride himself on being late… often. Work and his biggest passion were one in the same. Which unfortunately meant for Luciano and Angel that he got wrapped up in ogling the buildings, wondering how they were made and if they could be improved.

It didn't take long once his rushing took him to the place in question. He whistled a little to himself, drinking in the scenery. He inhaled deeply a few times to recover his breathe. Why did he agree to this again? Ah, yes, right. Andrea. He sighed, letting his shoulders fall drastically before inhaling deeply and resuming his near perfect posture.

"All right, Luciano, calm down." He had a habit of speaking to himself. Sometimes louder than a whisper unknowingly. It seemed he was lucky this time and nobody heard his words! It didn't take more than two scans of the area to find his table. After all, most other tables were full, and this one man was alone. Him and an empty seat across from him. Well, if he was wrong, he was wrong!

He adjusted his jacket before heading over. Worse comes to worse Luciano went to the wrong table and maybe made a friend along the way. Or maybe it was actually his date and he'd ruin the whole thing! He cleared his throat as he approached, watching the man for a just a few moments mess with a cube thingy. "Can't leave work at the Nexus either?" He teased with a big grin.

LEVEL:
8
CREDITS:
1965
Species:
Human
Age:23
Occupation:Mods Merchant
Profile:Engineer
Relationship:Hella Single
Posts:83
Played by:Majora
Using the small case of tools he'd brought with him, just tiny screw drivers, wire cutters, patch wires, tape, and a few other odds and ends things, Angel was well on his way to fixing the minute error in the processing system that would allow him to input more data, so that the small cube had more of an array of images and sensory effects that it could output before it died. He had a small white wire between his teeth and was carefully using his wire cutters to strip another wire as he carefully held them apart with one of his tweezers. He'd caught the attention of several Angaran nearby but he hadn't noticed yet, at least not till a faintly accented voice caught his attention and he looked up, his cornflower blue eyes wide with surprise as he caught site of another human, male, and
very
attractive. Given the similarities between this man and Andrea he was going to assume this was his brother Luciano, smiling around the wire in his mouth he nodded and gently stripped the wire, took the one from his mouth, connected the two and then sealed it into place before setting it aside.
"Not really…when you work in the bowels of the Nexus it's hard not to do any work period…there's always something that needs to be fixed or cleaned or scanned or something."
Grinning he stood up and moved around the table, holding out his hand with a shy smile on his face, it really had been some time since his last date. He didn't really do dates anymore but this was something he couldn't exactly say no to, especially not to Andrea.
"I'm Angel Orison…and you would be Luciano Mastroianni…it's nice to finally meet you, I hope you didn't have any problems finding the place? I got a bit confused on my way here…needless to say I'm not all that…well versed on the Angaran culture yet so the streets all went one way then another and I couldn't read the signs."
Shaking the other males hand he leaned in and pressed himself up onto his tiptoes to press a quick kiss to his cheek. Grinning again he motioned for Luciano to sit in the chair across from him as he returned back to his chair, taking a moment to put away his set of tools, though after putting the box together.
Pushing the black cube to the side he smiled nervously and grabbed a cloth to wipe the grease off his hands,
"Sorry about that…when I'm nervous I need things to work on…and since I can't make a power source small enough for this unit for anything other than a onetime use…it's sort of like therapy to work on one. Oh…uh if you were wondering it's a holocube, I've got more back on the Nexus but basically it has the capacity when activated to create a holographic image of…well whatever is in its database. I normally use them when I'm out in the field collecting supplies, but it's meant to create sounds and smells based on whatever is pulled out of the database. For instance I have one that I use solely for the fact that I've perfected it to sound, smell, and act like a very real Eiroch. That thing saved my but from a bunch of outlaws in the Badlands on Kadara…but uh….sorry…I also ramble when I'm nervous…so feel free to tell me to be quiet whenever you like. What…about you? What do you do?"
Hopefully turning the conversation away from himself would stop him from feeling so nervous.
Angel's Outfit
?
Tag:
Luciano Mastroianni
LEVEL:
7
CREDITS:
115
Species:
Human
Age:28
Occupation:Architect
Profile:Soldier
Relationship:Single Pringle
Posts:71
Played by:Orchid

Leave it to Andrea to pick two workaholics for a blind date! He didn't bother hiding the smile that took shape at the man's comment. Everybody did things differently, some people followed their passions and molded it into a career. Luciano was one of those people and judging by the way Angel looked right now, it seemed this was his passion. He listened to his blind date introduce himself and watched him leave his seat, circling the table until they were in front of each other.

With a hand extended, the pair shared a handshake. "Aya is… gorgeous. I don't think lost says it. I got sucked in by the beauty and well, uh," He used his free hand to rub at the nape of his neck with a sheepish chuckle. "Stood in the middle of the street staring at buildings… I'm not versed in Angara anything yet, hopefully I learn it soon or I'm screwed."

Thanks to the Pathfinders the relations between the native species to the Andromeda galaxy and the Milky Way folks were starting to build bridges. Something told him that Angara and the Imitative would soon mix in terms of living. He needed to learn everything Angaran! Hopefully he'd learn some stuff while here for his date. The very same date that stretched upwards to plant a kiss on his cheek! Luciano didn't quite expect it and felt a light blush creep into his cheeks, painting his cheeks a pale pink. And here he thought Italians were forward!

Score: 1 Angel, 0 Luciano.

He did indeed take the seat across from Angel, smiling as he did it. How weird was this? Since when did siblings set up dates? At least it appeared they would have a good time. Already Angel seemed to leave him mildly tongue tied. And thankfully, Angel's tongue wagged freely while his own remained wrapped in itself. Luciano didn't just listen because he couldn't quite talk. He listened because he found it interesting, both the work this man did and the man himself. After all, Andrea wouldn't pick just anybody for him.

Er, right?

Once Angel pointed the conversation back to him, he erupted into laughter. Not the howling kind but definitely not a very quiet laugh. "That thing mimicked an Eiroch?! That is the most bad ass thing I have heard in like six hundred years, Angel!" He praised easily, finding it astonishing. "Don't worry about talking too much. It's just less stumbling for words on my end." It was true! And would hopefully put his date at ease too regarding his parade of words.

"Me? I'm an architect, I specialize in colony building." While talking, he pulled open his jacket and retrieved a little journal of paper—a rare thing—then flipped to a page, sliding it to Angel. It was a sketch he'd done of a pet project, a debt, for an asari friend of his. "I've been doing it for a few years now, made my name while working on some Asari colonies. Weirdly enough, I've even built Elcor housing. Most architects focus on their species but I'm an overachiever, a perfectionist. Gotta be the best or why bother trying?"

Wow, how much did he and his brothers sound alike right now? He smiled fondly at the thought. "I'm still trying to take all of this in, you know? I think it's safe to say you love your job. Don't worry, I won't tell anybody you were working on our date." Luciano winked and spoke playfully.

Angel Orison
LEVEL:
8
CREDITS:
1965
Species:
Human
Age:23
Occupation:Mods Merchant
Profile:Engineer
Relationship:Hella Single
Posts:83
Played by:Majora
The handshake was good, strong, firm, and by the feel of his hand he obviously worked with them, they weren't too soft, but not too rough either. A good mixture of something in between, and at least it wasn't just him that was amazed by Aya, he'd never been to any of the home worlds of other species back in the Milky Way. It took a lot of clearance to get to Thessia, and Palaven might as well be a sealed vault to anyone but the Military. The Salarians only invited a few to theirs and the rest of the races, well, it was hit and miss, this was the first time Angel was getting to see how a race had developed on their own home planet, and so far he was seriously impressed. Especially given their technology, they had a unique way of using bioelectrical signals in their body to do things and that was utterly astounding to Angel, especially with how they incorporated it into their technology.
"Hey don't feel embarrassed at all, I can't help but get distracted by every piece of engineering I see, especially the way they've integrated their own capabilities as a species into it, it's rather astonishing right?"
It still felt like he was doing all the talking, but it didn't see the other man minded, his laugh brought Angel's brows up in surprise as he grinned a little and plucked at a loose thread on his sleeve. When the question was directed at his technology he blushed and grinned proudly, scooting the box into the middle of the table.
"It can do more than that…but the thing is it's only good for one use…I don't have any sort of sustainable energy source that can power it through the one hologram. I can also if I work at it hard enough create a pretty exact VI of a person…it would take a bit of studying and possibly them filling out some sort of test so that I could better map out their personalities but I mean…the uses of it are pretty amazing, if only I could get a good power source."
He chuckled and blushed a little more as Luciano told him not to worry about talking too much, he grinned wide as he nodded, listening to the other male as he spoke. It was kind of cute how he didn't seem to know what to say, which to be fair if Angel wasn't as forward as he was sometimes he'd have no idea what to say either.
When Luciano mentioned that he was an Architect, and his specialization in colony building Angel blinked in surprise, and leaning forward as the other male pulled out a little journal made of paper, flipping it open to show him a sketch he'd done. The lines were nice, flowing, curved in some places, it reminded him something of Asari architecture though to be fair it was vastly different cause Luciano had his own style. Then he was talking about his work, how he got well known by working on Asari colonies, it was sort of entrancing listening to him talk. At the mention of building homes for Elcor Angel looked up and blinked in surprise,
"Really? Elcor living spaces, but don't they live in…groups, like more than five or six together at a time, I'd say herd but that seems somewhat….rude? But I'm really impressed, I've never worked with Elcor before, the Alliance barely let me out of their sight until I came here. I'm…I guess you could say I'm a rather talented engineer, but I also make money on the side creating mods for weapons and armor for well…anyone really."
It made sense to him that Luciano was still trying to take it all in, and when it was said he loved his job Angel couldn't help but nod, he really did love doing what he did. He did grin and blush at the wink from the other male, quickly grabbing the cube and sliding it off the table down to the bag that was sitting beside his chair.
"Thanks…I'd rather not anyone know the first date I've been on in the Andromeda Galaxy I decided to work…that'd be kind of embarrassing. So um…are you hungry, from what I understand most of the food here is safe to eat…their fruits are especially amazing and the alcohol if you drink happens to be sweet, which I find rather interesting. And after food if you wanted we could go for a walk through the town, I know you mentioned the architecture so I figure we could go get lost together?"
Angel's Outfit
?
Tag:
Luciano Mastroianni
LEVEL:
7
CREDITS:
115
Species:
Human
Age:28
Occupation:Architect
Profile:Soldier
Relationship:Single Pringle
Posts:71
Played by:Orchid

He wanted to improve it. The engineering type were always looking for improvements on their work, personal or otherwise. Luciano honestly had no doubts about this man's skill or dedication. It was enough to make him almost smitten already. Blind dates could apparently be fun. He asked about the Elcor and he nodded, they were pack creatures much like the wolves of Earth. Nobody said it was easy but he'd worked with them amongst other species. Batarians weren't exactly a friendly people towards humans so… He avoided that one a lot.

"Herd isn't really wrong though. They are an incredible species and thrive by living in units. It's something to truly behold!" If Luciano had been born a hundred years earlier, he'd have been a child dreaming of aliens beyond their stars. Which only meant that he, in this current life, adored the stars and the people that lived within them.

He pocketed his sketch book again once Angel had a chance to look at it, patting the spot inside his jacket affectionately. Not many people were still using paper. Luciano had a few dozen sketchbooks, some filled and some still empty. They were brought to Andromeda with him. He couldn't work without paper! It was just how he was. He liked the feel of it. It felt… real.

Already Luciano was warming up to Angel and he hoped it was the same for him too. He mentioned taking a walk together, viewing the architecture together. Andrea either planned this perfectly or Angel was just a considerate man. Both, probably.

"Wait, wait," He held his hands up though he had a grin that went as wide as possible. "We can actually ingest their food without dying or having the worst pain for three to five days?" His eyes twinkled with mirth. Even the alcohol could be consumed? Oh man, Aya was perfection! "Oh hell yeah!" He laughed and almost bounced in his seat. Luciano could be quite a child sometimes, hopefully his date didn't mind!

"We can totally go for a walk. Not just for my endless love for architecture either. I bet you we can check out their tech too." Maybe get into trouble along the way too. Eh, they could find out when the time came!

Angel Orison
LEVEL:
8
CREDITS:
1965
Species:
Human
Age:23
Occupation:Mods Merchant
Profile:Engineer
Relationship:Hella Single
Posts:83
Played by:Majora
Angel listened intently as Luciano explained about the Elcor, that Herd wasn't really the wrong word as weird as it might sound. The younger male was completely fascinated by how much the other knew of the other species, he couldn't help nodding with enthusiasm,
"It honestly sounds it, I've never really had the ability to learn or study about other species, well, other than through their technology but to be fair you don't get much Elcor tech when serving aboard Alliance frigates and dreadnaughts. I've always heard though, that they're fighters have VI controlled weapons mounted on their backs, and that's always fascinated me, though as fast as a VI is I honestly thought it could always have been improved if there was a direct neural link into say an implant in the Elcor's brain, though not a lot of popularity with thoughts like that."
He chuckled and blushed a little but as he ran his hand through his hair and sighed a bit, honestly, he was kind of glad now that he'd agreed to do this for Andrea, his brother was fun to talk to and didn't seem to mind his ramblings, whereas Andrea tended to get frustrated easily.
It was more than a little amusing and sweet to see how Luciano treated his notepad, honestly in this day and age no one really used paper anymore, it was all done on pads or screens. Handwriting wasn't much a big deal outside of the military where it was practically demanded that you have some sort of basic understanding on how to write. Though as he was talking Luciano held up his hand and asked him to wait and Angel fell silent, tilting his head to the side in confusion. Had he said something wrong or was it something else, it seemed Luciano was caught off guard by the fact that humans could eat their food without being in pain. He grinned wide as Luciano seemed to get very excited about it, and to be fair back in the Milky Way there wasn't a lot of food that could be shared between the species, humans and Asari were about the only ones who could do that. Volus, Turians, and Quarians normally ate the same thing and he wasn't sure about the Elcor, Vorcha, Hanar, or the Batarians, and to be fair he wasn't sure he wanted to know about it.
"Yeah, amazingly enough nothing in their diet is harmful to us, I mean even the Krogan can eat it, the Asari from the Nexus are doing fine with it, I think the Salarians are okay but I'm not sure on the rest. I mean aside from a few of the Exiled species on Kadara…we have no idea who else can eat what….but Ig et the enthusiasm it's pretty amazing."
At the mention of actually taking a walk to look around Angel was more than a little excited he was already glancing around before staring back at the other male with a grin.
"Alright then so we have a choice, we can leave now and go for a walk and check out the sights, architecture, history, I believe there's a museum around here somewhere. And then since we're allowed I think we can go and check out their technology, I've been dying to do that since I got here. Which…apparently, the Angaran's power their guns through some type of natural crystal found spread across their colony worlds? Which is something I'm hoping I can at least look at and if possible maybe buy a handful to experiment with…which is something else I do."
Chuckling a little he leaned back in his chair and sighed a little,
"I'm also known on the Nexus as a mod creator, which means I basically go out to different planets, hunt down materials and create mods for weapons and armors. Sometimes I can even create suits of armor or even weapons if I have the correct components and things. I've got my own Stall or kiosk back at the Marketplace on the Nexus, it's currently closed now because it's still a bit damaged after all the rioting that happened…but thankfully most of my things were stored in my lab. So nothing I was working on that was important was damaged at all, just my emotions, which is kind of amusing given how everything has gone down recently. Which begs the question, do you do anything else besides architecture, I mean by the looks of it you're a very capable artist, and I don't know if we brought many of those with us to the Andromeda Galaxy. I don't know if they were thinking about culture when they thought of all of this, which kind of amuses me…bring all the tech and all the people to make creating buildings and life easier and yet we leave behind the culture that made life worth living…sorry just ignore me, I'm a bit weird."
Angel's Outfit
?
Tag:
Luciano Mastroianni
LEVEL:
7
CREDITS:
115
Species:
Human
Age:28
Occupation:Architect
Profile:Soldier
Relationship:Single Pringle
Posts:71
Played by:Orchid

Amazing! How amazing was that?! They could eat Angarian food! He dreamed of such things back in the Milky Way and now? Now it was real! He was practically giddy as Angel explained what he knew about other species that could eat the food here. His stomach seemed to be awful fond of that too judging by the way it quietly rumbled. Yet when Angel mentioned having the option to ditch, a sparkle of mischief flickered in his eyes. Oh, Angel absolutely has no idea the type of man that sat across from him. At first, he didn't answer or decide to walk or remain here. He simply wanted to listen to his rambling date with glee.

The riots… His heart sank a little. He'd been involved in that much to Andrea's dismay. By involved, Luciano actually participated in the riot, destroying things. Better to maybe not mention that, right? Either way, a small pang of guilt hit him, and he knew he needed to atone for that. Not just for himself but for the others too. "Hey, I can help you fix up your kiosk-stall-thingy when we get back. We did some bad shit during the riots."

He didn't elaborate on that and instead shifted focus to his other interests. "I love art. It's one reason why I stick to paper instead of technology for my work. It feels, I guess, more real, like there is a connection between my work and the real world. It's not just some doodle through technology it's a real piece of art like our ancestors did. I guess I've always kind of revered their art compared to ours." Which was mostly done through holo-pads and other technology. Nobody sat down and worked like Luciano did, not really.

"I don't think you are weird. Andrea is my brother, c'mon, you cannot out weird him." Luciano combatted Angel's dismissal of himself with some truth and a charming smile. And now was the time to act! He stood up, making sure his chair wasn't loud against the floor, and walked around to Angel's side. He extended a hand, looking downwards at the other man. "I say we ditch everything my brother planned and figure it out ourselves. Museum, technology, all of it. He'll never know."

Angel, after all, gave a choice but minutes ago. They could go. And Luciano in his carefree and spirited way was doing just that! They could eat from the markets along the way too. Take in Aya while exploring their loves and getting to know one another. What could be better?!

Angel Orison
LEVEL:
8
CREDITS:
1965
Species:
Human
Age:23
Occupation:Mods Merchant
Profile:Engineer
Relationship:Hella Single
Posts:83
Played by:Majora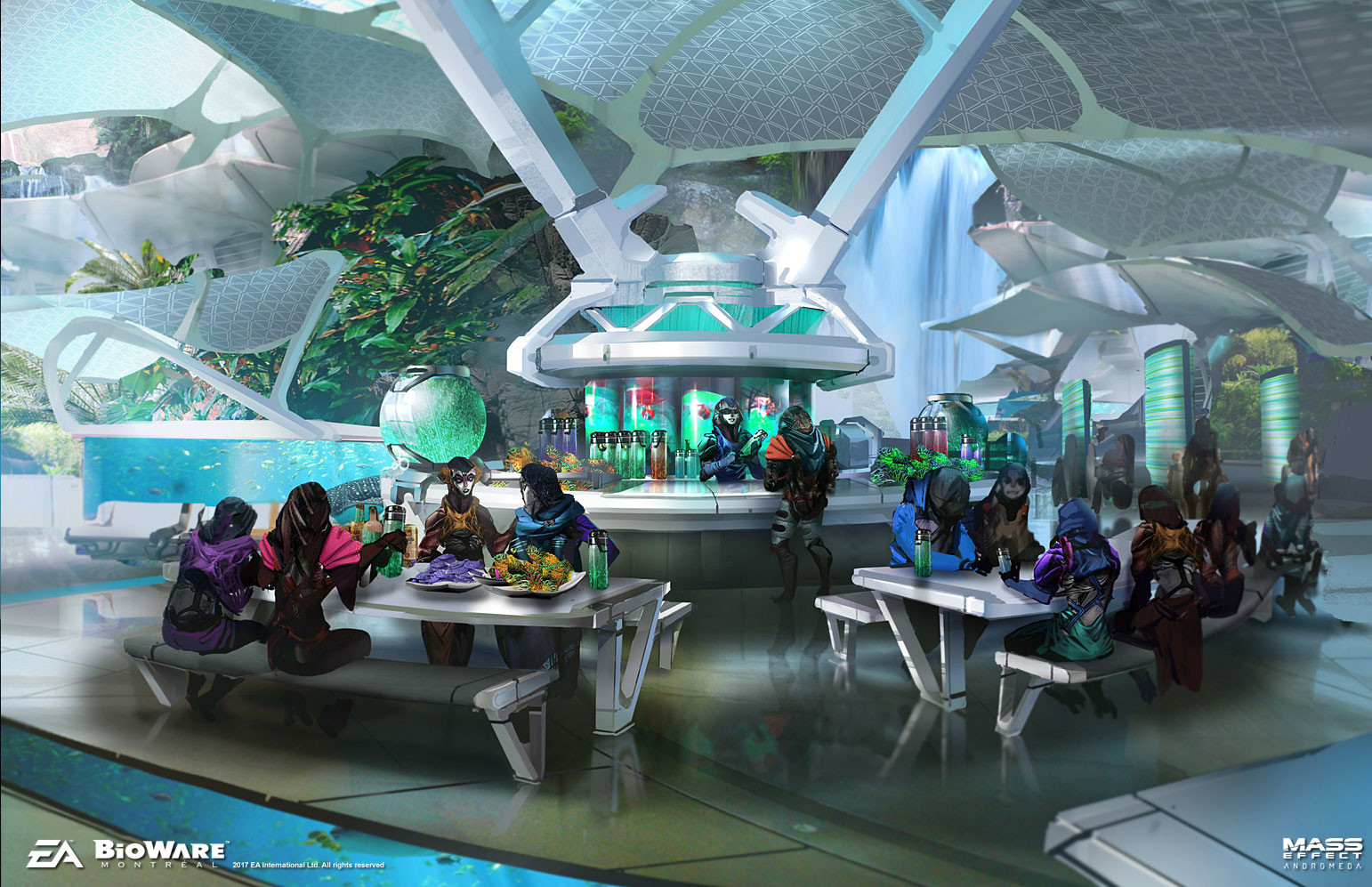 It was about the cutest thing he'd seen, seeing how excited Luciano was about being able to eat alien food, Angel himself hadn't had any. He'd been surviving on rations for the last few months because of the Station Damnation Breakout, which was what some were starting to refer to the incident as. Luciano had to have been in Cryo for a while not to know anything about the Angaran, which meant he had to come out right before the event happened, which had to have been tough on him and his brother. He couldn't imagine just coming out of cryo, having to learn everything to catch up on the current situation only to actually live through what was almost a second uprising. He remembered his own part played during the riots, he and a few others had managed to get off the station to a ship, in order to help try and figure out what was going on. But in the end, it didn't really matter as the Angaran's were the ones to help find the cure, which was how they now had a representative on the council, and most of the alien species were very grateful to them.
Luciano actually offered to help him fix his kiosk when they got back to the Nexus, the offer made Angel blush as he nodded a little bit,
"Y-yeah! I wouldn't mind the help at all…it's just got some exterior burns and concussive damage…I'm sure someone tried to tamper with the mechanical bio lock but that's easily fixable…but two of the walls got smashed inwards so I might need a way to make the walls more sturdy without turning the place into a bunker…which is something you might be able to help me with Mr. Architect."
While he was an engineer he could only add in defenses and things to make it harder to break into, structural support wasn't exactly his forte, but if he had Luciano there with him it was entirely possible that between the two of them he'd pretty much have the best stall on the Nexus, or at least the most defensible. The conversation shifted to art and Angel actually shifted closer, nodding, he was pretty interested in art but he'd never had the opportunity to actually study it, his mother had been a fan of some Elcor artist and was always showing off things he made.
"That's actually kind of beautiful to hear…I've never really had the chance to study art, mostly because my heads always been full of techno babble and things. My mom though, she loved art and always tried to share it with me, I didn't really get it though, not till she tried explaining it to me like it was…a piece of concept work. Trying to fit all the colors or pieces of a statue together in a way that not only worked but caught the eye. I mean I can look inside the guts of a computer and my breath can be taken away by how simple and beautiful it is. After that I sort of got into art but then…things changed and I never really got the chance again, but if you ever have anything you want to share I'm totally game to look at it. I can't promise some sort of expert opinion but I'll always be honest, and just ignore it if I try and tell you to tack on some sort of forcefield or laser grid network that's just the engineer inside me saying it can always be made to do better than what it actually does."
Hearing Luciano defend him against his weirdness claiming his brother, Andrea, was his brother and was weirder than him. Which was amusing as he'd known Andrea for a while, and sure he could be eccentric but it didn't mean he was weird, though to be fair, Luciano was his brother so there was no way of knowing what eccentricities Andrea had.
"Well I guess I can take that, normally I wouldn't cause you don't know half the weirdness that comes with me but I'll take your word for it that Andrea is weirder than me, for now."
He grinned a little as he glanced around before glancing back as he saw Luciano standing beside him, looking at him as he offered his hand, blinking slowly the human stared before grinning widely and placing his hand in the other males'.
"My kind of plan, we'll go somewhere for you first, come on, it can't be that hard to find something around here, and if we can't we can just ask one of the Angaran they're really helpful, well the nice ones at least."
Lacing his fingers through Luciano's Angel pulled himself up from his seat and walked beside the other male.
Moving out of the cantina area Angel glanced around at all the folks that were moving about, humans, Turians, Salarians, Angaran, even a few Asari as well as Quarians. It was interesting to see all the races mingling with one another, it would have been hard to see this anywhere else but on the Citadel in the Milky Way. The further they moved away from the market the quieter it got, and the less they saw of the other species and the more Angarans they saw. Most simply nodded and smiled at them as they passed by, it seemed being on a date was a universal sign of being left to one's own devices. Glancing around Angel hadn't really had a chance to study their buildings at close range,
"What do you think of their buildings…I've honestly never seen anything like it…and it all looks so pristine…can you tell me anything from what you see?"
It was interesting to try and get Luciano's prospective on it, given his architectural background in it all.
Angel's Outfit
?
Tag:
Luciano Mastroianni
1 User(s) are reading this topic (1 Guests and 0 Anonymous Users)
0 Members: